1969 Camaro Silver 302 Crossram Z28 FOR SALE at HEARTBEAT CITY


1968 Camaro Convertible RS/SS 396-325 HP
THIS CAR HAS BEEN SOLD!
All Original born with drive train
All Original protecto plate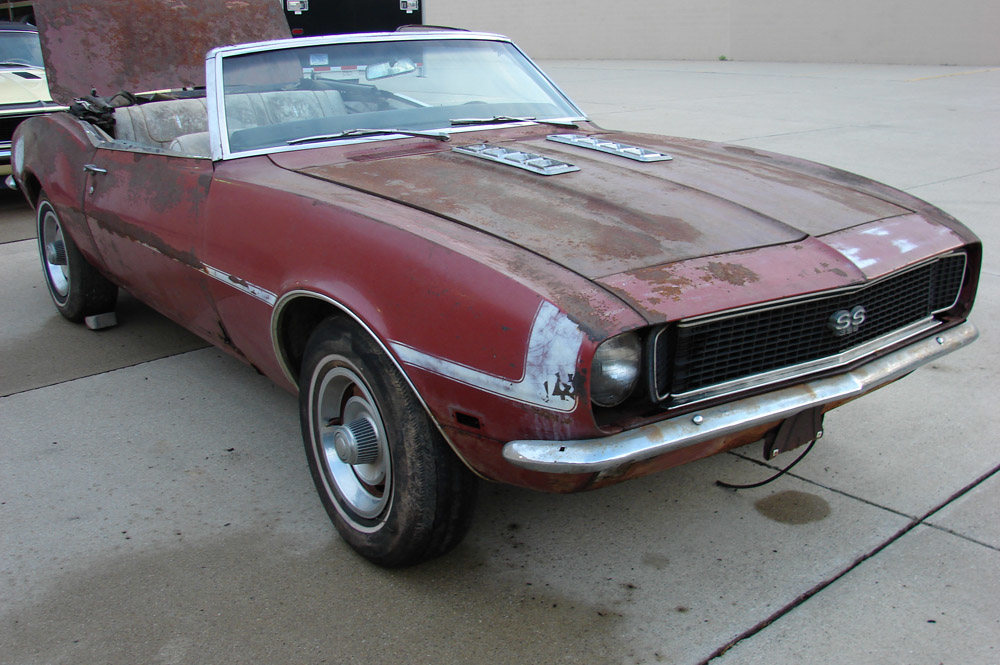 All Original owner history with registrations
This is a very original car that is for the most part all original.
Selling dealer: Miller Chevrolet Ellicott City Maryland
Selling date: April 3rd, 1968
Factory Original Options:
Engine: T0103MW 396-325 HP L-35
Transmission: P8C05 M-21 Close Ratio
Rear axle:BR0311G 3.07 Positraction 12 Bolt
Original color: Ash Gold
Original interior: Deluxe Pearl Parchement
Convertible top: White top
Rally Sport
Super Sport 396
Deluxe Interior
Deluxe Seatbelts
Power Steering
Power Brakes
Power Top
AM Push Button Radio
Center Floor Console
Tachometer & Gauges
Positraction
Tinted Glass
This is a very original restorable Camaro. I have a few of the items missing in the photos. The bumper jack is complete, original, dated, and in super nice shape. The wood grain ashtray was not in the dash, but it is fairly nice and clean and goes with the car. The belt reveal rear pinch well moldings are GM and nice used originals.
The car has all 4 front and rear vibration dampeners (cocktail shakers), still intact on car. Original big block throttle rod is still in place and I have the original wiper motor. Car also still has its undamaged original 396 fan shroud which is rather hard to come by. The original Muncie shifter is still intact and has never been out of the car. All mounting and the ultra rare 1968 BB shift rods are intact. I have included photos of new sheet metal that is brand new in the boxes and included with the car. Note: The SS hood is remarkably clean underneath and can be used again.
We are also interested in NOS Camaro parts in trade or collections of parts.
Price: 27,995.00
THIS CAR HAS BEEN SOLD!
NOTE: Heartbeat City is not a car dealer. You are responsible to your state for sale tax.
This Camaro along with several others were purchased from the Rick George Collection.