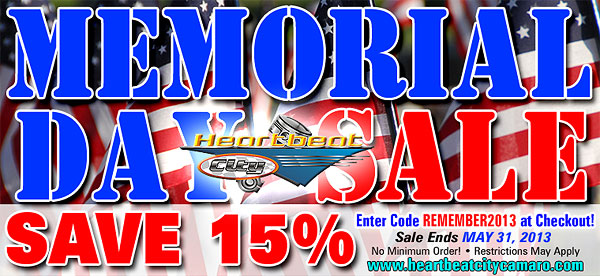 Special Offers and Sales Events
Place your order with Heartbeat City from now through May 31, 2013 using Coupon Code REMEMBER2013 to receive a full 15% discount. No minimum order is required.
Restrictions May Apply
"Non-Discountable" parts or items are marked as such inside the enlarged part description window and are not eligible for discount.
Camaro Parts and Restoration Supplies
Heartbeat City is dedicated to providing the very finest Camaro parts and restoration supplies available. Others may offer larger discounts, but we caution you to read the fine print or watch for those excessive shipping & handling fees.
Camaro Restorer
As Heartbeat City's president and fellow Camaro restorer, I have always strived to bring you the very highest quality parts at the very best prices. Many Camaro vendors do not stock the same quality parts, and often times will provide cheaper parts at similar prices. We believe in what we sell, we do the research for you to make sure the parts fit and to ensure you don't have to waste your time with experimentation or costly returns. No restocking fees here!
All the best,
James Stubbings
President
Heartbeat City
HeartbeatCityCamaro.com