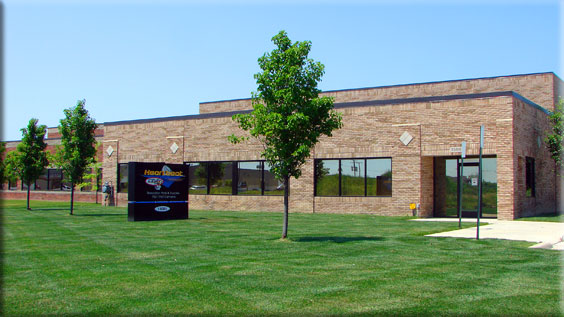 Our Story
Heartbeat City Camaro has been selling and manufacturing 1st generation 1967-1969 Camaro parts for over 30 years. The company has been owned and operated by Mr. James Stubbings since its inception beginning in June 1990 in Mt Clemens, Michigan. Originally Mr. Stubbings ventured into the Camaro world when he purchased his second car a 1967 Camaro Rally Sport back in July 1985. The car was Bolero red with a black vinyl top and a hopped up 350 engine with automatic transmission. Mr. Stubbings wanted to improve his Camaro and worked hard to acquire parts, pieces, and other rare options for his prized possession. This adventure started in Mr. Stubbings grandmother's garage in St. Clair Shores, Michigan. Buying, selling, and parting out old Camaros for their parts was common place in those days. He visited many old junk yards and purchased project cars from the public.
In the beginning

we parted out Camaros to obtain the parts needed for other restorations. Several companies started manufacturing reproduction parts. Back into those days reproduction parts were at best average. Thru the years, collectors demanded better quality and better fitting parts.

Heartbeat City has always been dedicated to the best quality parts available. Mr. Stubbings is not only the proprietor; he is an avid collector of rare Camaros. His Camaro collection features some of the rarest Camaros known. 1967 Indy Pace Car 396-375 HP, The highest option 1967 Z/28 RS in existence, the finest black 1969 427 COPO Camaro, 1969 396-375 HP L-89, The first 1968 RS Z/28 from Berger Chevrolet, One owner 1969 Z/28 Rally Sport dusk blue with 34,000 original miles, 1968 SS 396-375 HP L-78 Rally green with 32,000 original miles, 1969 Camaro 302 Z/28 JL-8 with the Smokey Yunick Hemi Chevy Canted Valve all aluminum 302 proto-type engine, 1969 Yellow COPO 427-425 HP, 1969 Camaro ZL-1 427 4-Speed restored to perfection, 1969 Z/28 302 Crossram car Lemans blue Rally Sport, 1969 Camaro 396-350 HP Indy 500 Pace Car purchased from the original owner, 1968 Z/28 Rally Sport, Seamist Green all original purchased from the original owner, 1967 Camaro Convertible RS/SS 396 Butternut Yellow with Yellow Deluxe interior, originally owned by Pete Estes who was Head of Chevrolet and VP of General Motors, the last 1967 Z/28 Ermine white and several others. We are always looking for rare and collectible Camaros and NOS and Rare parts and pieces.

Heartbeat City Camaro Clients have the biggest advantage because we carry a complete line of 1967-1969 Camaro parts for your restoration, we have the finest and most technically correct parts available anywhere, and we stock everything we sell for a quick turnaround time. Heartbeat City proudly uses the parts we sell on our own cars.

We specialized in the following:
New 1967-1969 Camaro Parts
NOS 1967-1969 Camaro Parts
Quality Used 1967-1969 Camaro Parts
Chevrolet Performance & Historical Parts and collectibles
USA Manufactured Parts and Pieces Where Possible
Rare & NOS Camaro Chevelle Nova Corvette Parts
If you have a Camaro you are interested in selling and or parts, please feel free to contact us.
We are your First Generation Camaro Parts Superstore for 1967 Camaro, 1968 Camaro, and 1969 Camaro Needs... We have it all!!