SHIPPING POLICIES

Items marked  or  will incur additional charges which are added to your order at checkout. 
All parts that require additional shipping charges are clearly marked in each listing on our web site.
Dimensional & Overweight Package
FedEx Ground® Flat Rate Shipping Charges

Order Total
Shipping Charge
$0.01 - $50.00
$9.95
$50.01 - $100.00
$15.95
$100.01 - $200.00
$19.95
$200.01 - $300.00
$28.95
$300.01 - $400.00
$37.95
$400.01 - $500.00
$44.95
$500.01 - $600.00
$48.95
$600.01 - $700.00
$54.95
$700.01 - $800.00
$59.95
$800.01 - $900.00
$66.95
$900.01 - $1000.00
$72.95
$1000.01 - $1500.00
$79.95
$1500.01 - $2000.00
$89.95
$2000.01 - $3000.00
$119.95
$3000.01 - $4000.00
$139.95
$4000.01 - $5000.00
$164.95
$5000.01 - $7500.00
$199.95
$7500.01 - $10,000.00
$249.95
FED EX Ground Orders Over $10,000.00
FREE
Truck Freight Orders Over $10,000.00
FREE

**Please see our shipping polices for oversize
and overweight surcharges.
Truck Freight, Next Day, Second Day Air shipments
are not eligible for free shipping.
Overweight Package: is considered any package that the weight exceeds 25 lbs. or more. Heartbeat City's shipping surcharge applies to these packages and is shown in the listing to alert our clients to the surcharge
Dimensionally Overweight Packages: are considered any package exceeding 25 pounds dimensionally. To determine dimensional weight, please multiply width x height x length to achieve the total cubic inches. Then you divide the total cubic inches by a factor of 194. Example: 12x12x37=5328 Divide 5328 by 194 equals 27.46 or 28 pounds.
Special Note: The Dimensional weight package Surcharge listed in our web site applies to any package that will measure over 5184 cubic inches or more. The cubic inches are measured or divided by a factor of 194.
Federal Express & UPS: All packages are shipped and are factored using dimensional weight no matter what size the package measures.
Dimensional Weight Example: a package that measures 8x8x12=768 cubic inches. The package may only weigh 2 lbs., however, it ships at 4 pounds. 8x8x12=768 divided by 194 comes out to 3.95 lbs. or 4 lbs. All packages are rounded up to the next pound by Federal Express or UPS shipping.
Inventory: Heartbeat City maintains one of the largest inventories of 1967-1969 Camaro parts in the industry. We believe in stocking what we sell. That is why we stock over 99% of the parts offered on our website at all times. This saves our customers, time, back orders, shipping costs, and avoids delaying your restoration.
Same Day or 24 Hour Shipping: Heartbeat City will make every effort possible to ship your order on the same day we receive your order if we receive the order prior to 2:00 PM EST. Truck freight shipments can take 24-48 hours depending on the order. Heartbeat City does not charge additional fees for same day shipping.
Shipping Insurance & Handling: Heartbeat City insures all shipments for the actual price of the sale. Insurance costs are included in the shipping chart above. Heartbeat City does not charge a handling or processing fee.
Signature Required: We ship daily using FedEx Ground or USPS. FedEx will make three delivery attempts before returning the package(s) to Heartbeat City. You will receive a notification on your door to alert you that an attempted delivery was made. Any packages returned to Heartbeat City are considered refused orders and the appropriate shipping charges and return or restocking fees will apply. When placing your order, please furnish us with an address where someone will be available to sign and receive your package (s). We always suggest a business address.
Hazardous Materials: All materials classified as hazardous will be identified on the product detail page. No Air shipments or International shipments are permitted for aerosol paint can of any kind, paint, primer, chemicals, and any other related products that are flammable or considered hazardous materials. Hazardous materials can only be shipped USPS mail or FedEx Ground per Federal law.
Backorder Shipping: The shopping cart invoice or the store invoice will indicate any back ordered items. If you do not wish to wait for your back ordered item, you can simply delete the item from your shopping cart at the time. Each and every item in our web store shows "LIVE" Inventory. All part listings will indicate "In Stock Available" or "Back Ordered". If an item is in stock at the time you place your order, you will receive the part promptly. Back orders are shipped as soon as they become available. Please note: Heartbeat City will ship all back ordered items at our expense, excluding special order items, overweight or dimensional weight items. Air Shipments and truck freight items are not eligible for free back order shipping. IMPORTANT: Parts canceled from a backorder are subject to restocking fees. Whether they are purchased with credit card or Pay Pal.
Free Ground Shipping Policies: Heartbeat City offers free Federal Express ground shipping with a maximum of 150 pounds actual or dimensional weight for all orders that exceed $4,000.00.
Payment Methods: Heartbeat City accepts MasterCard, Visa, Discover, American Express, Pay Pal, checks, money orders, bank wire transfers, and cash. When paying by check, all funds must clear before any shipment.
COD Shipping: Heartbeat City does not offer COD shipping.
Alaska, Hawaii, US Virgin Islands, and other US Territories: Shipping charges can vary substantially, due to dimensional weight or actual weight. Please email or call customer service to obtain a rate quote. You may place your order online and we will be happy to contact you by telephone or email with the shipping cost prior to processing your order or charging your credit card.
Military AFO/APO Parcel Post Shipping: All AFO/APO addressed packages are required to be shipped via the US Postal Service. Special weight and size restrictions can apply. We will do everything we possibly can to wrap your package(s) to meet these guidelines.
International Orders: Heartbeat City can ship parts anywhere in the world. We use FedEx International economy Air, The US Postal Service or ocean freight under certain circumstances. Please inquire through email or call. We can best serve you if you furnish us with the list of parts or products you may wish to order, your complete shipping address and an email address. This insures the best possible shipping rates, method, and packaging to save you money. Special Note: All customs fees, duties, and or taxes are the responsibility of the purchaser.
Customs, Duties & Taxes: Customs procedures and import taxes or duties vary substantially by country. For this reason, the customer is responsible for knowing and paying all applicable fees that may be incurred from importing goods. We adhere to the highest standards and integrity in all aspects of our business; therefore, we will not make false statements or mark any shipment as a gift or otherwise misrepresent the contents of the shipment. We fully appreciate your understanding in this matter.
Automatic Email Notifications: Our shipping carriers will automatically email your tracking number on the same day your order is shipped. You can receive this free service if you've provided us with a valid email address. Please note: Spam blocking software may incorrectly identify the tracking confirmation email as spam. Please check your spam folder if you do not receive a notification email prior to calling for a tracking number.
Express Air Shipments: Next Day Air & Second Day Air shipping is available. Please contact us directly at 586-226-8811 for these High Priority orders! Generally we can ship most air shipments the same day if your order is received before 3:00 PM EST.
Truck Freight Shipments: Many items we sell are too large to ship FedEx or USPS. Please Note: Hoods, fenders, quarter panels, large floor sections, roof sections, and large sheet metal repair panels will require truck freight shipping. We will package and or crate your items carefully. Please allow 24-48 hours for your shipment to be processed and shipped. There are instances where the carrier gives us a longer window of time for a pick up. Generally working on their schedule this will save you considerably. If you order requires truck freight shipping and it is time sensitive, please advise your salesperson and we will do our best to accommodate you. Please note that truck freights should be shipped to a commercial address or you can pick your freight up at the terminal nearest to you.
Free Truck Freight Shipping Policies: Heartbeat City offers free truck freight shipping for all orders in excess of $7,500.00. There are no restrictions or limits for actual or dimensional weight. Truck freights are shipped to a truck freight terminal nearest to you or a business address. Note: The definition of a business address is determined by the truck freight carrier. Important: Home or a home with a home office is not considered a business address. All residential deliveries will result in an additional $179.00 surcharge. This is fee common carriers charge to deliver in residential neighborhoods.
Returns & Policies: If you need to return a part for a refund, part exchange, or store credit, please contact customer service for a return authorization number and further instructions. Heartbeat City will not accept returned goods without prior authorization. The customer is responsible for shipping costs incurred on all returned parts. All literature, printed or reading materials, stencil kits, stripe kits, electrical parts, gauges, wiring harnesses, switches, etc. are non-returnable. If any product is modified, altered, painted, installed or disassembled in any way without Heartbeat City's expressed written permission, the item is non-returnable. Heartbeat City recommends professional installation of all parts. Any item which has been altered, painted, installed or deemed non-resalable by Heartbeat City will be returned to the customer at the customer's expense.
Under no circumstances will Heartbeat City be responsible or liable for labor or fees associated with the installation, removal, modification, painting, or repair of any product. Heartbeat City is not responsible for any damage or discoloration incurred in the use of chemical products including, but not limited to, cleaners, waxes, polishes, and or paint products.
Defective Merchandise: All parts and products we offer are guaranteed to be free from manufacturer's defects. In the rare event you receive a defective part. Heartbeat City will email you a shipping label to return the part. A replacement part will be shipped to replace the defective part once the defective part has been returned to us.
Restocking Fees: All parts or products returned for a store credit will not incur a restocking fee. All parts or products returned that were paid for with a credit card are subject to a 20% restocking fee. All parts or products returned that were paid for by PayPal are subject to a 20% restocking fee. All parts orders cancelled prior to shipping that were paid for with Pay Pal are subject to the 3% fee Pay Pal charges that are not refundable. Please note: any parts returned with shipping labels, paint or primer, dirty boxes, or in any other damage to the original packaging are subject to a 30% restocking fee.
Shortages: Please inspect the contents of your package(s) to insure that all parts ordered were received. If you are missing any item(s) please be sure to check for back orders indicated on your invoice before calling our customer service department. If a shortage has occurred, please contact our customer service department within 24 hours of delivery to insure a proper resolution. Heartbeat City will assume no responsibility after this period of time.
Damage Claims: Heartbeat City will package your items with the utmost care. In the rare event you have a damage claim we ask that you notify us within 24 hours of receipt of the damaged items. If you receive a package, and the package appears to have suffered any damage, please open your package in the presence of the delivery person. After careful inspection, if you find any parts damaged, please contact a Heartbeat City customer service representative at once. Heartbeat City will ship you a replacement part upon receipt and inspection of the merchandise and the completion of the damage claims process if necessary.
Damage Claim Procedures: Please contact our customer service department within 24 hours. After inspection of the damaged goods, we will issue a damage call tag through our shipping carrier. The carrier will pick up the damaged merchandise at your address and return the damaged items to us. This process will eliminate inconvenience and expense to you our customer. Our customer service department will send you a replacement part after the product has been returned to Heartbeat City from the shipping carrier.
Color Variations: Heartbeat City sells many different color related parts from a variety of different manufacturers. The most common occurrence of color variations are found in the interior section. From time to time you may see a slight color or shade variation between any given parts. For this reason, we cannot accept these parts for return as defective merchandise. You are always welcome to return the parts if you are not completely satisfied.
FedEx Ground Estimated Delivery Times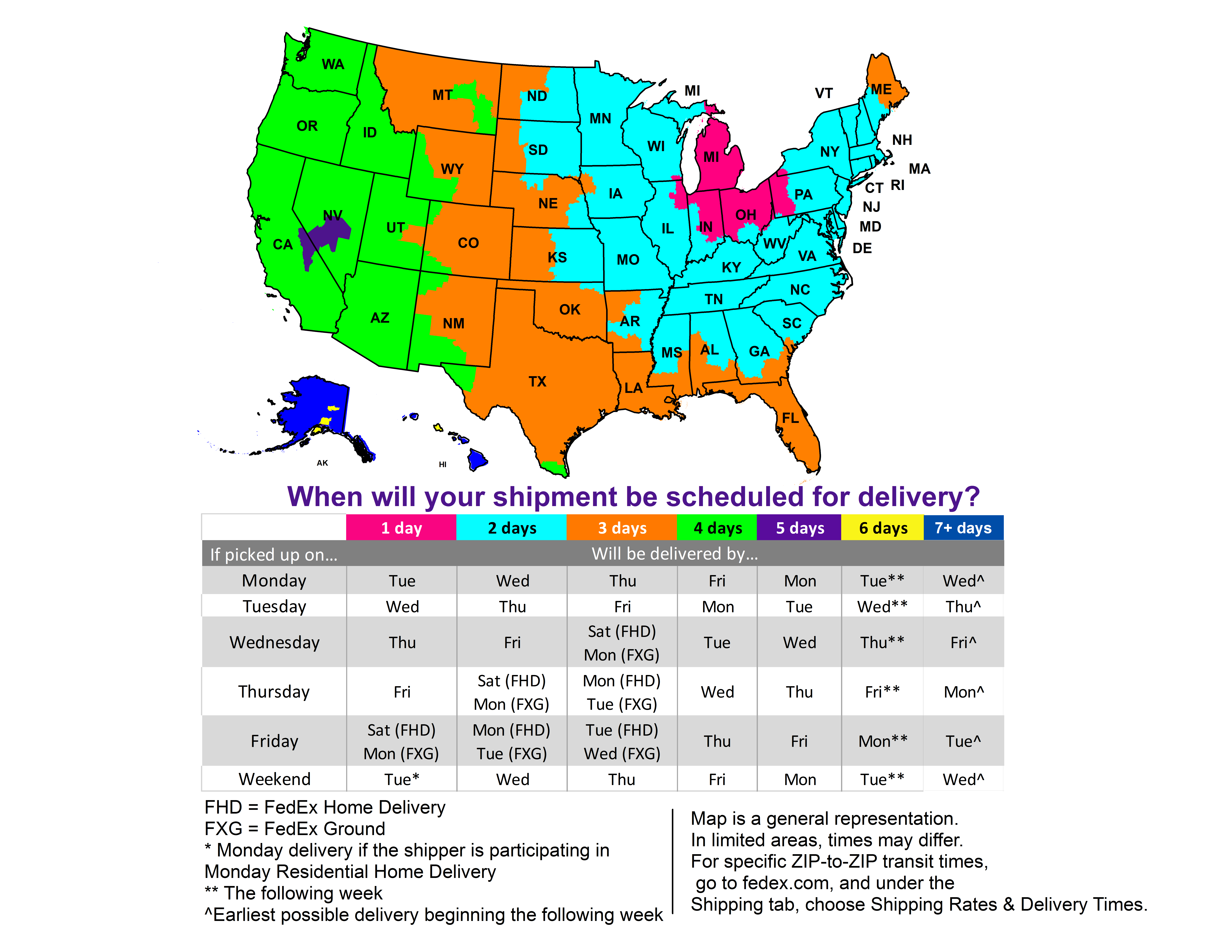 Shipping Map: The above map illustrates service schedules in business days as of January 2020 for Federal Express Ground shipments.
Special Notes: a business day does not include Saturdays, Sundays, or holidays.
Shipping Time Example: Heartbeat City ships your package on Monday and that package takes 2 business days to arrive. You do not count the day your package shipped as a business day, so your package would arrive on Wednesday, the second business day after the shipment date.
Shipping Transit Time: The map above shows a general representation of transit times, for a specific ZIP/Postal code to ZIP/Postal cod. Please use the Get Transit Time application under the Ship tab on Fedex.com.
Freight Items



Oversized Items


Overweight Items



Hazardous Items

Heartbeat City currently ships with only the following carriers.